5 Questions: Evelyn Glennie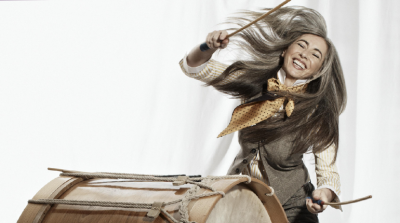 Dame Evelyn Glennie is a master percussionist, educator and composer with a powerful mission to "Teach the World to Listen". After being diagnosed with deafness at age 12, she felt drawn to percussion and regularly performs barefoot to feel the music. Glennie performs on "Dreamachine", a featured work on the latest Naxos album of works by Grammy-winning composer Michael Daugherty. We recently caught up with Glennie for a quick interview on the new album and her unique mission!
Michael Daugherty describes "Dreamachine" as "a tribute to the imagination of inventors who dream about new machines, both real and surreal." What is it like to collaborate with composer Michael Daugherty on such a unique work? Wonderful. This is the 2nd percussion concerto Michael has written for me. He is so open minded and really writes for the performer and audience. Michael understands drama in music and always delivers an experience for both performers and audience. He also balances melody with rhythm through percussion so well, not to mention all other musical ingredients, to make an exciting and emotional piece of music.
Which of the four movements of "Dreamachine" did you enjoy performing most and why? All of them! I love time to digest sound so from that perspective 'Electric Eels' is special. The lyricism of the vibraphone is very beautiful and dynamically one can really push the boundaries. However, Michael has produced 4 very contrasting movements and all are wonderful to play.
As a young musician, what attracted you to percussion? The variety of instruments and the myriad of sound colours possible. The instruments are like pieces of sculptures in many cases. Also, it is a family of instruments which is totally adaptable to all no matter what demographic.
Your mission is to "teach the world to listen". How has your mission changed or evolved with today's technological advances? We can share our mission statement globally through technology and keep people informed of that journey. I have 4 volunteers working on The Evelyn Glennie Archive Collection which will take the form of a physical centre in the future. We are able to develop and target a wide demographic with our own series of You Tube videos and other social media streams. However, we have got to value live performances and make sure we connect with people face to face, person to person on those occasions which in my mind is still the most powerful tool.
March is Women's History Month. Which female composers and musicians have inspired you as a musician? There are many amazing women composers, performers, business people, innovators and visionaries whom I draw upon – many are in the entertainment business like me and many are in other types of businesses but it's making the links that is important. It's often the 'not obvious' aspects that can be the most surprising and unexpected that lead to wonderful things!