5 Questions with Peter Breiner
Peter Breiner is one of the world's most recorded classical musicians, collectively releasing over 200 albums as a conductor, pianist, arranger, and composer. Originally from Slovakia, Breiner has found musical success all over the world, conducting award-winning ensembles such as Royal Philharmonic Orchestra, Bournemouth Symphony Orchestra, New Zealand Symphony Orchestra, Slovak Philharmonic Orchestra, and Hong Kong Philharmonic, often doubling as a pianist.
While Peter Breiner has released dozens of albums with traditional classical repertoire, his most successful recording to date is Beatles Go Baroque (selling over a quarter of a million CDs worldwide), which combines Beatles songs with Baroque musical idioms and orchestration. In addition, Peter Breiner arranged and recorded every known national anthem in the world, creating the world's first-ever comprehensive collection of national anthem recordings. As a composer, Breiner has written symphonies, oratorios, choral works, chamber pieces, and scored numerous films, including Anne of Green Gables, Piano Man's Daughter, and The Club. Additionally, his recordings have been placed in The Conjuring 2, The Hundred-Foot Journey, Batman: The Dark Knight, as well as CSI, I Love Lucy, Saturday Night Live, and many more.
Recently, we had the opportunity to sit down with Peter to learn more about his musical career and upcoming projects!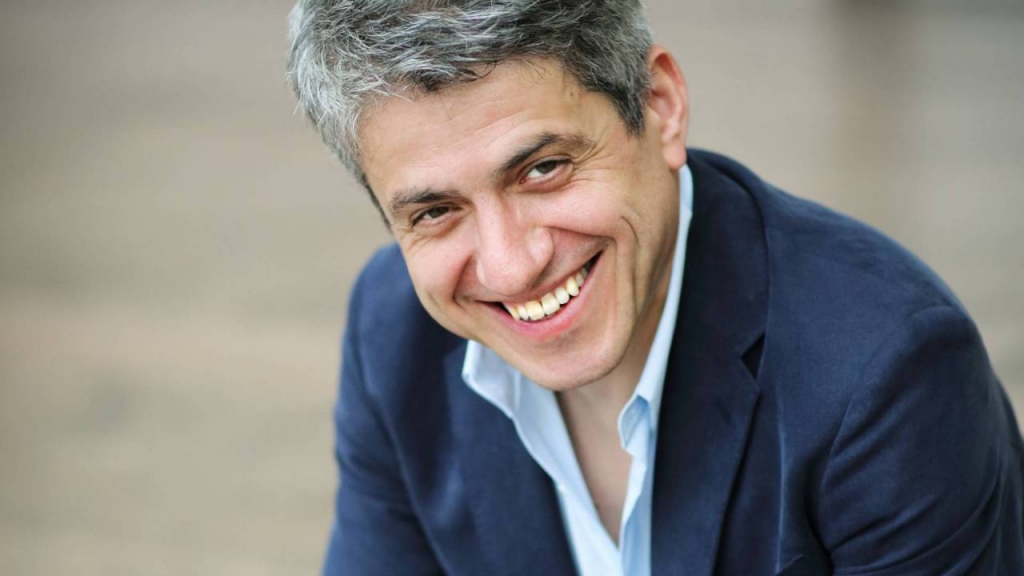 What inspired you to pursue a life in music?
I started playing piano when I was four. We had a piano at home, and my mother realized that I spent quite a bit of time trying to get some sounds out of it, so she decided to send me to music school. In fact, I went to music school before I went to regular school, so I learned to read music and the alphabet at the same time!
From there, I simply became fascinated by music. At the age of 10, I was admitted to music conservatory as an 'Extraordinary Student,' so I started going there once a week, and when I was 14, I started going there full-time. Ever since I can remember, I've never done anything but music.
With such a prolific catalog of releases, you have become one of the most recorded classical musicians of all time. How did your recording career begin, and what have been some highlights along the way?
It was a very good connection for both parties involved when I found Naxos and Naxos found me — I am one of the very first artists who started recording for Naxos. We've been together really since Naxos started — my first CD I ever recorded for Naxos was for Haydn and Boccherini Cello Concertos in 1988. In addition to the Haydn and Boccherini works on this recording, I added something unexpected: right in the middle of this classical concerto, the soloist suddenly plays jazz cadenzas! This created quite an uproar at the time. However, even with its unique combination of classical and jazz elements, this release earned a Penguin Rosette right away.
From there, I've recorded literally hundreds of albums for Naxos – classical, pop, and even tango! There are even dozens of albums with Chinese music that I arranged mostly for violinist Takako Nishizaki, wife of Naxos Chairman Klaus Heymann, which we performed in numerous concerts together, including the Chinese New Year concerts with the Hong Kong Philharmonic. Later on, the Hong Kong Philharmonic invited me to perform as a soloist in their Happy Valley concert for about 70,000 people. As I look back, I'm starting to feel that if there is anything to be done in music, I've probably done it!
You also arranged and recorded every known national anthem in the world, creating the world's first-ever comprehensive collection of national anthem recordings. How did this massive musical undertaking unfold?
The idea to record national anthems from around the world came from Klaus Heymann, without any previous connection to the Olympic Games. He simply thought that a complete set of national anthems, unified by the same sound, could be commercially successful. He was right!
After we released the very first edition of this national anthems project, I was approached by the International Olympic Committee for the 2004 games in Athens- they wanted to use our release as the official anthem set for the Olympics! First, however, this collection needed to be updated, which was a very complicated and painful process; the first batch took about two years to get it all arranged, copied, recorded, edited, and approved.
We were actually very lucky that the Olympics decided to take this, because they did a lot of the work in getting this approved. In order to be used in the Olympic Games, these recordings had to be approved either by the National Olympic Committee for each country or by their government directly. So, the International Olympic Committee had to send a CD of the recording to each of the 150 represented countries, and if there were any comments, we had to make those changes.
For instance, as governments change, sometimes they change their national anthem, such as Russia; they've changed their national anthem three times in the past 10 years! Then, there are new countries that are created by political movement, like in the case of former Yugoslavia or Czechoslovakia. Thankfully, Naxos has a resident anthem expert that stays in touch with the embassies and governments to keep us updated on any changes in national anthems along the way.
In the end, though, we are proud to have the only definitive, internationally-approved set of national anthems. This collection includes not only countries that have participated in the Olympics, but every single country in the world, including non-country entities such as provinces and territories that are not officially acknowledged, for a total of over 200 anthems. Several of these countries are even using our version as their official national anthem recording, as they may not have the monetary or personnel resources to produce a high-quality orchestral recording otherwise.
Throughout your recording history with Naxos, you have created numerous classical arrangements of popular songs, most notably from The Beatles, but also from iconic artists such as Simon & Garfunkel, Stevie Wonder, Elton John, Michael Jackson, and Billy Joel. How has your study of popular music informed your classical composition, and vice versa?
My own musical language is definitely informed by pop and jazz music; you can hear those idioms in my classical compositions, including symphonies, oratorios, and chamber music. Then, when I write musicals or pop songs, I'm informed by my knowledge of classical music. If anything, you could describe me as a crossover composer.
After the Beatles Go Baroque project took off, Klaus Heymann suggested that I record other popular music in a similar style, so we followed up with Elvis Goes Baroque. This was also very successful, but since Elvis is a trademark in the United States, we couldn't afford to release it there; the licensing fees would probably amount to more than we'd ever be able to make from it.
Then, I recorded a series of albums, featuring popular songs arranged in a semi-classical style, performed by a small orchestra and solo piano. We released about ten or eleven of these albums, which did fairly well. Like Beatles Go Baroque, some of these projects were also based on the concept of combining a popular song with a specific classical work. However, the song selection was a little scattered, with both current pop hits and 'evergreen' classics, so the vision was less focused, and these projects experienced mixed success. Some of the songs are still alive, such as Elvis' 'Love Me Tender,' which was the official welcome music for Swiss Airlines, but in general, you can't compare these albums to the success of Beatles Go Baroque. 
Because of the success of Beatles Go Baroque, I recently decided to arrange another series of Beatles songs, titled Beatles Go Baroque 2, which will be released in 2019. I think this series is even better than the first; with nearly 30 more years of experience, I was able to come up with a concept where the popular songs have a stronger musical connection to specific baroque works.
As we kick off a new year, what are some things that 2019 has in store for you?
2019 will be a busy year! First, the Royal Ballet decided to choreograph an orchestral arrangement I did with New Zealand Symphony of six Janáček operas. This brand new ballet will premiere at the Royal Opera in London on February 12th. Then, I am working on a commission for my own full-length ballet, which should be finished sometime this year. Also, 'Slovak Dances,' a symphonic suite I based on Slovak folk songs (similar to Dvořák's 'Slavonic Dances'), will also be released later this year. Additionally, there is one album of Christmas songs that was recorded in late 2018, and another album of classical pieces arranged for string quartet that will also be coming soon.
In the meantime, I have my concerts and ballet performances that I conduct all over the world. You know, the normal musician's life! I like it this way.
Thank you, Peter! It was fantastic getting to learn more about your musical background, your recording history with Naxos, and some of your biggest musical projects thus far.

We're particularly excited for the release of Beatles Go Baroque 2, so stay tuned for more on this exciting project! For more interviews and updates, sign up for our weekly Naxos of America newsletter!