5 Questions with Elisa Netzer
Elisa Netzer is one of Switzerland's leading young harpists. After making her debut at the prestigious Lucerne Festival in 2017 with a solo recital, she represented Switzerland at the World Harp Congress in Hong Kong. She has given recitals in Hungary, Russia, Brazil, France, Germany, Italy, Spain, and the UK, and has appeared as guest soloist with numerous orchestras, including the Orchestra della Svizzera italiana, the Filarmonica Arturo Toscanini, and the Orchestra Città di Vigevano. In 2013, Elisa made her international solo debut in St. Petersburg at the Hermitage Theatre with the Hermitage Orchestra, and was selected as a promising young soloist by the Musical Olympus Festival. Elisa Netzer is a prizewinner of many international competitions, including the Italian harp competition Suoni d'arpa and the Camac Harp Competition in London. After graduating from the Parma Conservatoire in Italy, winning the 'Best Graduate of Italian Conservatoire' Award, Netzer completed a Masters in Music with distinction at the Royal Academy of Music in London.
In describing the inspiration behind the title of her latest release, Elisa stated: "Toccata comes from the Italian word 'toccare', which means 'to touch'. It refers to a rhythmic, energetic and lively musical form and, with its denomination, to a very physical approach to music making. Although those are not the qualities usually associated with the harp, the repertoire presented in this recording explores how those aspects are actually intrinsic to the instrument, and intends to present it centre stage – under a different light, far from the aristocratic salons it is often associated with. Toccata is a journey through centuries, and creates a new identity for the harp."
We had the opportunity to catch up with Elisa to learn more about this exciting project!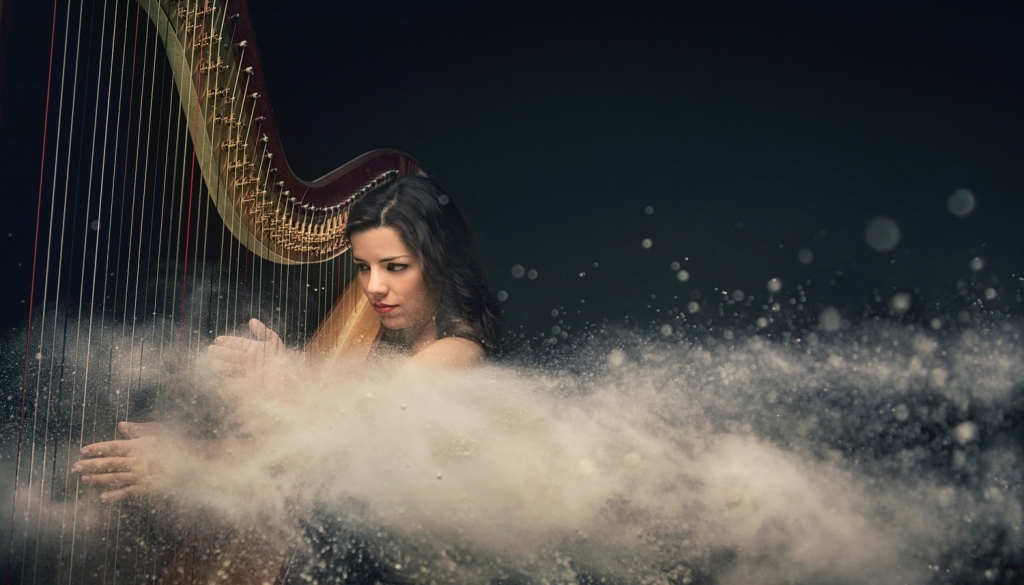 The Lucerne Festival is perhaps one of the most prominent classical music festivals in the world, and in 2017, you became the first harpist to ever perform a solo debut there. What was this experience like, and what has this achievement meant to you and your career?
This recital has been one of the most exciting challenges of my career. It's not every day that you get an opportunity to showcase the harp to such an educated and interested audience. By the end of my performance, I wanted the attendees to acquire a new sense of what the harp can do and leave them wanting to hear more. Since my expectations were quite high, I worked very very hard to prepare what, in the end, was a very successful concert. The preparation of this debut taught me a lot about myself as an artist, and although this achievement makes me very happy, I consider it a stepping stone for an even more challenging and exciting future.
What originally inspired you to play harp, and when did you know that you wanted to pursue it professionally?
I think I knew I wanted to be an artist since I could walk and talk; I danced in the stroller and sang into doorknobs. My parents used to organize concerts and festivals, so our home was always full of artists and rockstars. This exposed my eyes and ears to music of all kinds since the very beginning. I remember loving music so much and wanting to be a part of it in the most special way possible. At 5 years old, I used to spend afternoons watching Disney's Fantasia over and over, and the sound of the harp seemed to cast a spell on me. I decided it was the sign I was waiting for, went to my mother, stomped my foot, and demanded to become a harpist! 20+ years later, this stubbornness led me to my Naxos debut – who knew! I think I never needed to decide to make music my profession. I always knew that music and performing were ingrained in my core, so the path unfolded very naturally.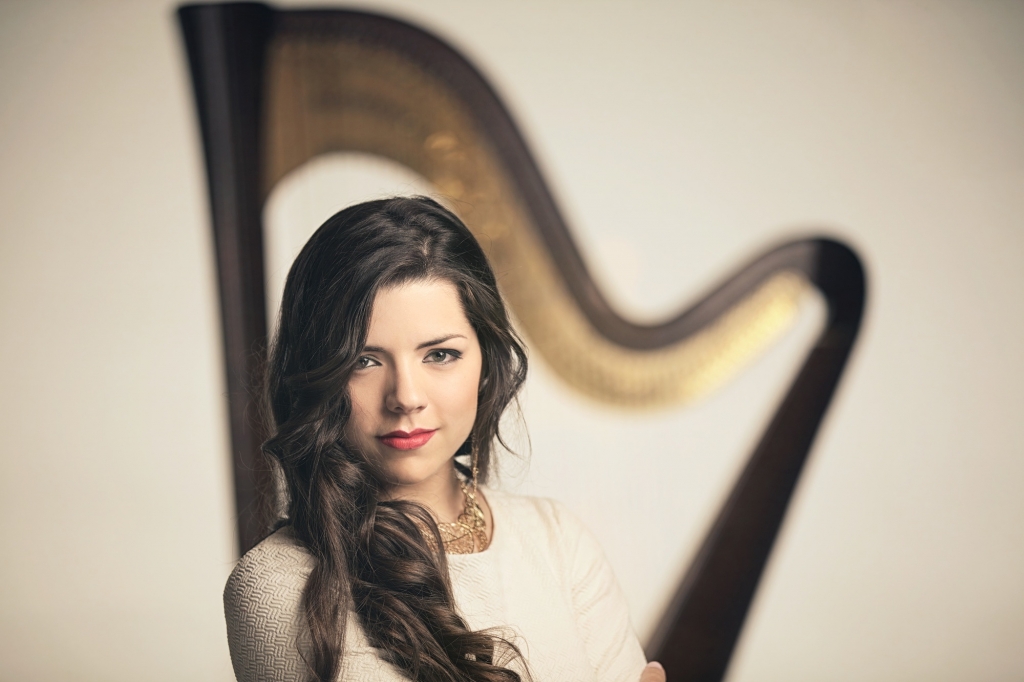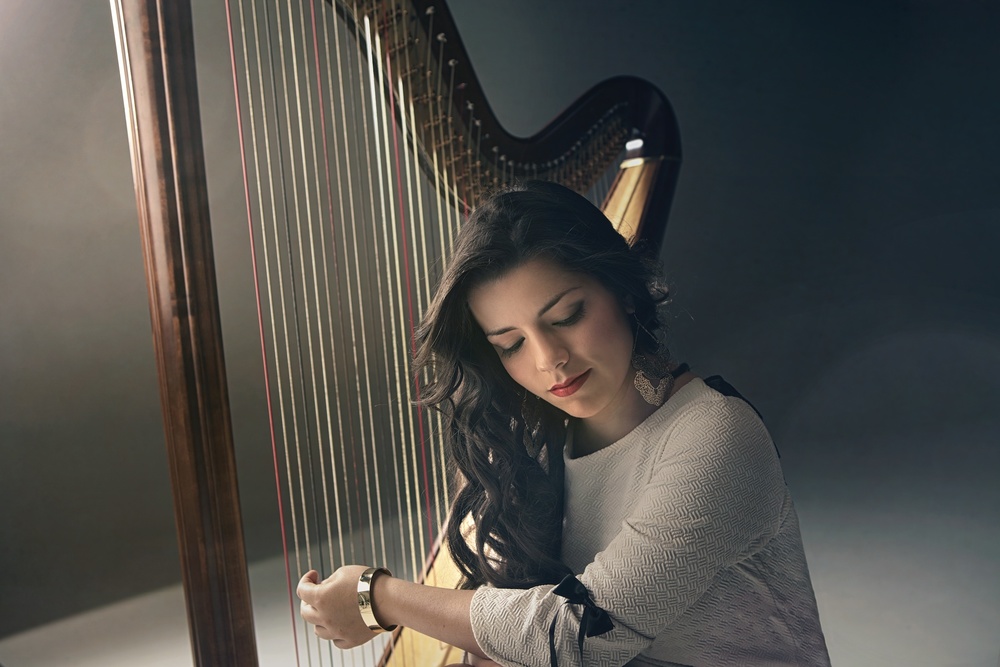 For this Naxos release, you included a wide range of works, including Baroque Scarlatti and Paradisi keyboard pieces you arranged for harp, 20th-century works from Khachaturian, Turina, Rota, and even a 21st-century composition. How did you choose these specific pieces for your Naxos debut album?
As with every other harpist of my generation, I am very frustrated by the clichés that surround the harp. Although it is rarely seen in concert series and big concert halls and not widely known by the public, everyone seems to have this image of a harp lullabying everyone to sleep. These clichés of sweetness and relaxation can certainly relate to the harp, which is capable of producing mellow sounds and vibrations, but the instrument and the soloists playing it are capable of so much more. I wanted to share the rhythm, energy, sound and power and I have found in the Toccata form – the perfect concentration of these elements. My personal taste, of course, guided me heavily; I fell in love with the Scarlatti Toccata just three weeks before my recording day, although I knew I was out of time to prepare, the piece needed to be in the album because it had all the elements I wanted to express. It still is one of my favorites!
The 21st-century composition on this release was written for you by Stephan Hodel, and was inspired by the special relationship between the harpist and her instrument. Throughout the course of this piece, it also illustrates a person touching a harp for the first time, featuring extended techniques such as stomping, scratching the strings, and even moving the pedals up and down randomly. What was it like having such an incredible work dedicated to you, and how did it come to life?
I felt a special project needed a special piece to be complete. I have admired Stephan's music for a long time, especially his ambitious and successful compositions for orchestra, choir, and rapper, which I thought was just amazing. At the time we were both living in London, and I suggested we get in touch, without knowing what would come out of it. In him, I have found a very collaborative composer who really understood what I was after and wanted to learn the language of the instrument so as to exploit its potential most effectively. The piece fits like a tailored suit – it's a joy to perform, and the audience is mesmerized by it as well. I really hope to include Stephan Hodel in my future projects!
Your trailer video is incredibly unique and captivating. What was it like working with Molina Visuals on this project, and how did you decide to use powder?
Josep Molina is nothing short of a genius, and every musician needs a bit of his wisdom in building a career. I was always aware that any visual element in an album communicates something. I didn't want to record a powerful and confident album and then have a golden harp, a ball gown and a demure pose on the cover of it. Molina was great in understanding what my message was and successfully portrayed it in the pictures and videos he created. We talked a lot about the idea of power and sound exploding from the contact between my hand and the strings of the harp, so that's how he came up with the brilliant idea of using powder. He made visible what I hope can be heard by listening to the CD.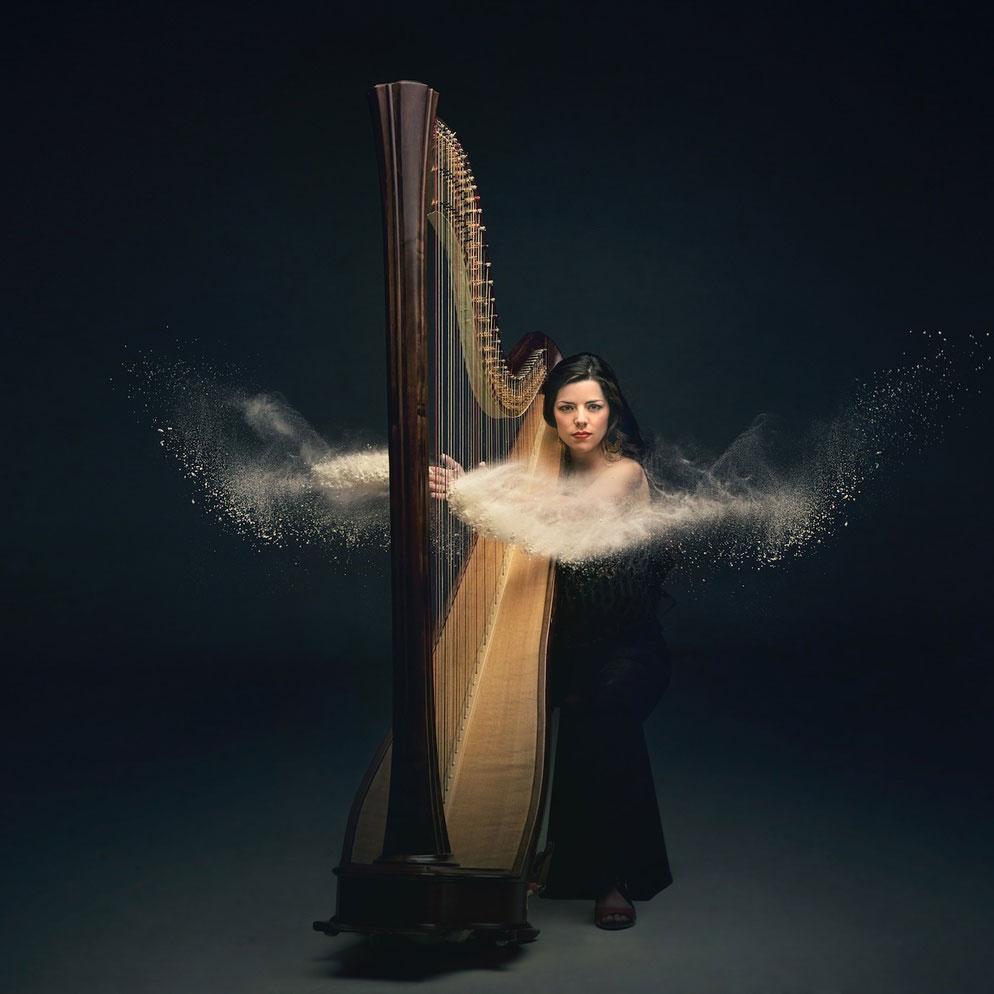 Check out Elisa's album trailer below!