Naxos of America Congratulates Detroit Symphony Orchestra on A2IM Libera Award Win
New York, NY, 06.21.2018 – The winners have been announced for the 7th annual A2IM Libera Awards as the independent music community gathered in celebration at the PlayStation Theater. The Naxos label was honored to accept the first ever Libera award for Best Classical Album on behalf of the Detroit Symphony Orchestra and Leonard Slatkin. The ensemble received the award for their recording of Aaron Copland's Symphony No. 3 and Three Latin American Sketches, released as part of the American Classics series on Naxos.
Premiered in 1946, a year after the end of World War II, Copland's iconic Third Symphony was described by the composer as 'a wartime piece- or, more accurately, an end-of-war piece- intended to reflect the euphoric spirit of the country at the time.' The fourth movement, heard on this recording in its original uncut form, opens by quoting one of his most well-known pieces, Fanfare for the Common Man. Copland described the Three Latin American Sketches 'as being just what the title says. The tunes, the rhythms and the temperament of the pieces are folksy, while the orchestration is bright and snappy and the music sizzles along.' The Detroit Symphony Orchestra is known for trailblazing performances, visionary conductors, collaborations with the world's foremost musical artists, and an ardent commitment to Detroit. As a community-supported orchestra, growth of the institution continues due to the generous patronage of individuals and institutions alike. Endowed by the Kresge Foundation in 2008, esteemed conductor Leonard Slatkin became the DSO's twelfth Music Director. With growing attendance and unwavering philanthropic support from the Detroit community, the DSO's performances include Classical, Pops, Jazz, Young People's, and Neighborhood concerts, and collaborations with high-profile artists ranging from Steven Spielberg to Kid Rock.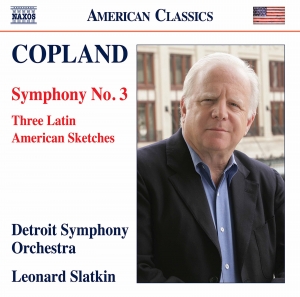 Headquartered in Franklin, Tennessee, Naxos of America is the leading independent classical music distributor in the U.S. and Canada. Specializing in state-of-the-art distribution and marketing and promotion, Naxos of America distributes nearly 110,000 SKUs to traditional brick and mortar retail, as well as offering a comprehensive suite of services tailored to consumer direct fulfillment. Naxos of America is also one of the world's largest digital distributors of independent classical music and video, supplying a catalog of over 1.8 million tracks and 80,000 albums to hundreds of digital platforms and mobile outlets across the globe. Naxos of America offers marketing, publicity, physical and digital e-commerce services, licensing opportunities, streaming services, sales support and customer service for all new releases and active catalog titles of Naxos Records and nearly 1,000 distributed labels.