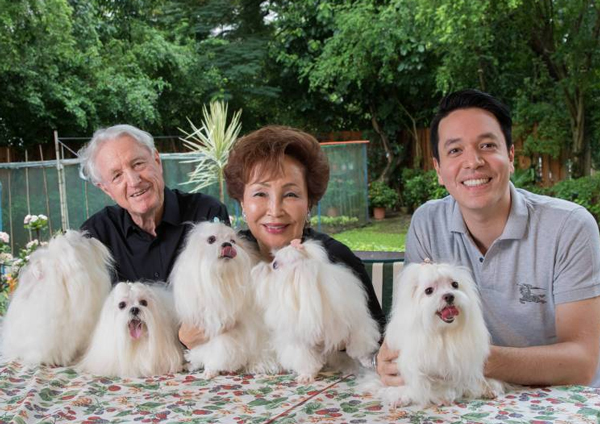 KLAUS HEYMANN, FOUNDING CHAIRMAN OF NAXOS MUSIC GROUP, CELEBRATES HIS 80TH BIRTHDAY
Klaus Heymann, the German-born entrepreneur and visionary force in the classical music recording industry, celebrates his 80th birthday on October 22, 2016. His name is synonymous with making classical music available to a much wider audience than was the case prior to his founding in 1987 of Naxos, the CD label that  famously undercut the major labels in terms of price, without compromising on quality. Naxos now boasts a catalogue of such impressive depth and breadth that it attracts global admiration. The label, headquartered in Hong Kong, celebrates its 30th anniversary in 2017.
Mr. Heymann has received many awards recognizing his acumen and the indelible stamp he has planted on the industry he represents. In May, 2015 he received Yale University's Samuel Simons Sanford Award; previous recipients include cellists Yo-Yo Ma and Mstislav Rostropovich, violinist Isaac Stern and pianist Alfred Brendel. In presenting the award, Robert Blocker, Dean of the Yale School of Music, highlighted Klaus Heymann's extraordinary accomplishments:
"Klaus Heymann is a visionary. He starts a project and the project continues to grow, and grow, and grow. And with his vision and his guidance he has enriched the worldwide community by making so much music accessible to them."
Approaching his 80th year, Klaus Heymann's entrepreneurial talent for innovation and product development remains undiminished and continues to underpin the globally networked Naxos Group of Companies, which he heads.
Klaus Heymann led the field in foreseeing the inevitable synthesis of recorded classical music with the internet as its vehicle for distribution. In 2002, Mr Heymann pioneered the concept of subscription streaming services four years before the arrival of Spotify, having launched the industry's first streaming platform in 1996.  Naxos Music Library now offers access to more than 120,000 CD-length recordings from 800 labels, and similar libraries now exist for jazz recordings, spoken word and videos, as well as the Naxos Radio site.
He continues to refine this competitive advantage. In 2014 he introduced the latest version of ClassicsOnline: this high-definition and lossless platform for streaming and downloading music gives listeners the very best reproduction quality to appreciate fine recordings. Using adaptive bitrate streaming technology, it was the first such service to be launched worldwide.
Klaus Heymann's long-standing mission to record obscure works deserving of a much higher profile continues, and the choice of such repertoire remains solely his responsibility. The scope of this inclusivity has been helped by his acquisition of other catalogs owned by recognized labels: Capriccio, Dynamic, Ondine and Orfeo among them.
His Naxos Music Group has remained uniquely bullish in a market that has faced significant challenges, and it has given hundreds of other labels an unprecedented reach through its global distribution network. In 2015, the Group acquired ArkivMusic.com, America's specialist online classical music retailer; it also set up CD manufacturing-on-demand facilities at its Nashville office in the United States.  Klaus Heymann's stated strategy to be "the last man standing in terms of distributing classical music in physical form" is bold, prescient and much-quoted.
Mr. Heymann's drive to innovate does not stop there: developments in the last year include the forming a new division for audiovisual content exploitation, the launch of a new library service for world music, and a new online resource for musical works.
Klaus Heymann's contribution to the classical music recording industry is unparalleled. Naxos Artist Marin Alsop, music director of the Baltimore Symphony Orchestra and the São Paulo Symphony Orchestra, who became the first woman to conduct the BBC's Last Night of the Proms in 2013, made this comment on the occasion of Naxos' 25th anniversary:
"I think speaking of Klaus' influence on classical music is too narrow. His vision as an innovative entrepreneur has resulted in the rebirth of a struggling industry. That is not only good for classical music, but for society at large.
"My hope is that we all look at our own organisations with the insight and foresight that Klaus has brought to the recording industry; to adapt and evolve and reinvent ourselves in the same way that Klaus has done at Naxos.
Note to editors:
Naxos Records – Launched in 1987 and offering over 9,000 titles, Naxos is the world's leading classical music label in terms of number of new releases and breadth of catalogue. Its strategy of recording exciting new repertoire with exceptional talent has been recognised with numerous Grammy® awards, Penguin Guide 3 star recommendations, Gramophone Editor's Choice Awards, ICMA awards and other honours.  Naxos is a truly international label and produces over 200 new recordings a year in more than 30 countries. Please visit www.naxos.com.
Naxos Music Group – Founded in 1987, Naxos has developed from being known primarily as a classical record label into a global enterprise that owns, administers and/or distributes a large number of independent and major classical record labels both physically and digitally. With its suite of digital subscription platforms, including NaxosMusicLibrary.com, NaxosWorks.com, ClassicsOnline.com and several others, Naxos remains a leader and innovator in the classical music industry. Please visit www.naxosmusicgroup.com