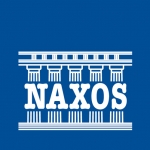 NAXOS BECOMES APPLE MUSIC CURATOR
On July 8th, 2016 Naxos took an important step in the evolving world of classical playlisting by becoming an official Apple Music Curator. By combining the range of its catalogue with its curatorial expertise Naxos offers playlists of unique range and quality. Naxos launches its Apple Music Curator partnership with two major dynamic playlists that will be updated regularly with new tracks and music selections.
Celebrate Classical provides the soundtrack for your holidays and special celebrations throughout the year, from Thanksgiving, Christmas and New Year's Eve to Halloween and Mother's Day. The New & Now playlist features all that is new and exciting in the world of classical music, whether it's new music, new presentations or new performers. With more than 200 new releases each year, and artists from around the world, there is always something new to discover with Naxos.
The Naxos Apple Curator launch will include Best of Classical, one of Naxos's key playlists that features the best-known and most popular classical music. From Vivaldi and Mozart to Beethoven and Brahms, these are the tracks that have helped people discover classical music for generations. Naxos Apple Music Curator will also launch with a full slate of themed playlists including Music for a New Season: Summer, Classical Music for Dinner, Wedding Music Essentials, Classical Music at the Movies, Best of Classical, Lullaby Baby and even A Celebration of Star Wars & John Williams. New playlists will be added throughout the year to accompany listeners in many facets of their daily life with a multitude of lifestyle, mood and activity themed playlists.
Further specialty playlists will also be added that take advantage of the massive Naxos catalogue. These include unique educational playlists such as Naxos American Classics, a Composer Spotlight series, Art and Music, and Listen, Learn & Grow for young children.
Whether you are just learning about the joys of classical music, or are already a collector, let Naxos Apple Music Curator be your road to discovery.
You can find the Naxos Curator profile here: applemusic.com/Naxos
For more information about Naxos Apple Music Curator please contact Kayla Ganz. Kganz@naxosusa.com