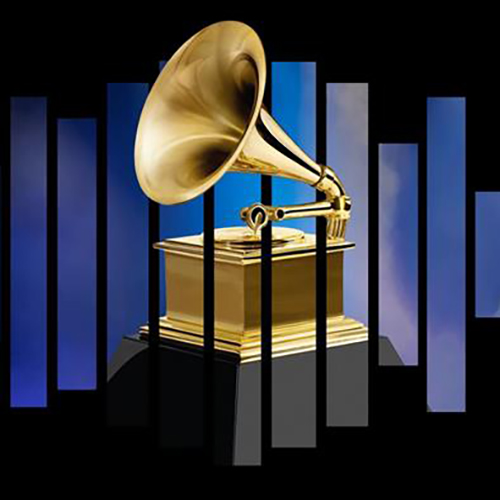 THE NAXOS OF AMERICA DISTRIBUTED LABEL FAMILY CELEBRATES 5 GRAMMY® AWARD WINS
Franklin, TN, 02.11.19 – The Recording Academy® has announced winners for the 61st Annual GRAMMY® Awards. Artists, engineers, producers, and composers from Naxos, Avie Records, Innova, Mack Avenue Records, and Pentatone were honored with five awards at the Staples Center in Los Angeles.
From the Naxos American Classics label, the Best Classical Compendium award went to Fuchs: Piano Concerto 'Spiritualist'; Poems Of Life; Glacier; Rush with conductor JoAnn Falletta and producer Tim Handley. This remarkable release of works by composer Kenneth Fuchs features three new concertos and an orchestral song cycle. Fuchs, Falletta, and the London Symphony Orchestra have maintained a 15-year recording relationship as well as a long-standing working relationship with Naxos that is celebrated with this GRAMMY® win.
Artist and GRAMMY® Award presenter, Cécile McLorin Salvant, took home her second award with Best Jazz Vocal Album for The Window on Mack Avenue Records.
Performed by the Santa Fe Opera Orchestra with soloists Sasha Cooke, Jessica E. Jones, Edward Parks, Garrett Sorenson, Wei Wu, conducted by Michael Christie, and produced by Elizabeth Ostrow, Bates: The (R)evolution of Steve Jobs garnered the award for Best Opera Recording on Pentatone.
Best Choral Performance was awarded to conductor Donald Nally, instrumentalists Rebecca Harris, Arlen Hlusko, Lorenzo Raval, Mandy Wolman, and voices of The Crossing for McLoskey: Zealot Canticles on Innova.
Karim Sulayman, conductor Jeannette Sorrell, and Apollo's Fire triumphed with a Best Classical Solo Vocal win for Songs of Orpheus – Monteverdi, Caccini, D'India, Landi on Avie Records.
Special recognition went to producers David Frost, Elizabeth Ostrow, Judith Sherman, Dirk Sobotka, along with Producer of the Year – Classical winner, Blanton Alspaugh, all whose bodies of work include recordings from the Naxos of America distributed-label family.
Mark Jenkins, CEO of Naxos of America, provided comment on the 61st GRAMMY® Awards: "The entire Naxos community congratulates the winners of this year's GRAMMY® awards in all categories, not only those on our own Naxos label, but those of our third-party partner labels, whom we proudly distribute and represent. These winners represent the best of the genres, composers, performers and technical artists that Naxos brings to the attention of the listening world. The variety of musical creativity found in today's award winners and nominees demonstrate evidence of an ever-diversifying musical marketplace, reflecting the evolving eclectic tastes of the modern listener. We celebrate their artistry, hard work, perseverance, and their collaborative efforts that come to fruition through their recognition as GRAMMY® winners."
Headquartered in Franklin, Tennessee, Naxos of America is the leading independent classical music distributor in the U.S. and Canada. Specializing in state-of-the-art distribution, marketing, and promotion, Naxos of America distributes nearly 110,000 SKUs to traditional brick and mortar retail, as well as offering a comprehensive suite of services tailored to consumer direct fulfillment. Naxos of America is also one of the world's largest digital distributors of independent classical music and video, supplying a catalog of over 1.8 million tracks and 80,000 albums to hundreds of digital platforms and mobile outlets around the globe. Naxos of America offers marketing, publicity, physical and digital e-commerce services, licensing opportunities, streaming services, sales support, and customer service for all new releases and active catalog titles of Naxos Records and nearly 1,000 distributed labels.
Click the album artwork for each recording below to be taken to more info on our media portal. (Login needed)
32. BEST JAZZ VOCAL ALBUM
Bates: The (R)evolution of Steve Jobs
Michael Christie, conductor; Santa Fe Opera Orchestra; Sasha Cooke; Jessica E. Jones; Edward Parks; Garrett Sorenson; Wei Wu; Elizabeth Ostrow, producer
Label: Pentatone
77. BEST CHORAL PERFORMANCE
Donald Nally, conductor; The Crossing; Rebecca Harris; Arlen Hlusko; Lorenzo Raval; Mandy Wolman
Label: Innova
80. BEST CLASSICAL SOLO VOCAL ALBUM
81. BEST CLASSICAL COMPENDIUM
For a full list of Naxos distributed-label nominees for the 61st GRAMMY® Awards, please visit: here.