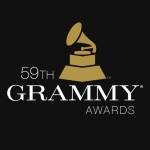 THE NAXOS OF AMERICA DISTRIBUTED LABEL FAMILY CELEBRATES 8 GRAMMY® AWARD WINS
Franklin, TN, February 13, 2017– Artists, composers, engineers, and producers from five record labels in the Naxos of America distribution family are celebrating GRAMMY® wins last night Los Angeles, CA. The Recording Academy® honored these Naxos of America artists in eight categories.
Three GRAMMY® Awards were given to the artists, composer, and producers of Tales of Hemingway on the Naxos American Classics label. An album devoted solely to works that he's composed, Michael Daugherty won the Best Classical Composition award for the title work. The Best Classical Instrumental Solo GRAMMY® was given to cellist Zuill Bailey for his performance on Tales of Hemingway, the piece being a cello concerto that evokes the turbulent life, adventures, and literature of author Ernest Hemingway. The GRAMMY®-winning duo of Nashville Symphony conductor Giancarlo Guerrero and producer Tim Handley took home the award for Best Classical Compendium.
Having its world premiere in 1991, Ghosts of Versailles, written by American composer John Corigliano, received its first recording last year on the Pentatone label. Performed at the LA Opera with soloists Joshua Guerrero, Christopher Maltman, Lucas Meachem, Patricia Racette, Lucy Schaufer and Guanqun Yu, conducted by James Conlon, and produced by Blanton Alspaugh, the recording garnered the Best Opera Recording GRAMMY® for the aforementioned artists. Recording live opera is a challenge, therefore a very well-deserved Best Engineered Album, Classical GRAMMY® was awarded to the Ghosts of Versailles engineering team of Mark Donahue and Fred Vogler.
Third Coast Percussion, who performed a collaboration with jazz musician and fellow nominee Ravi Coltrane at the GRAMMY® Premiere Ceremony, won the Best Chamber Music/Small Ensemble Performance award for their album Steve Reich on the Chicago-based Cedille Records.
The Best Surround Sound GRAMMY® Award was given to surround mix engineer Alexander Lipay and surround mix engineer, surround mastering engineer, and surround producer Dmitriy Lipay for Dutilleux: Sur Le Même Accord; Les Citations; Mystère De L'instant & Timbres, Espace, Mouvement on the Seattle Symphony Media label. Performers on the album were Seattle Symphony and conductor Ludovic Morlot.
A first in the Naxos of America distributed label family, Ken Bloom and Richard Carlin won the Best Album Notes GRAMMY® Award for their work on Sissle and Blake Sing Shuffle Along on Harbinger Records.
Jeff Van Driel, CEO of Naxos of America, commented from the 59th GRAMMY® Awards at the Staples Center in Los Angeles: "Again, the Recording Academy® has recognized the artists in the Naxos of America distribution family for their outstanding work in performing and engineering some of the best releases in recorded music in 2016. Congratulations to the artists, engineers, and producers who have taken home GRAMMY®s this year. We feel fortunate to be able to work with you and your labels and look forward to many more wins in the years to come."
Headquartered in Franklin, Tennessee, Naxos of America is the leading independent classical music distributor in the U.S. and Canada. Specializing in state-of-the-art distribution and marketing and promotion, Naxos of America distributes nearly 80,000 SKUs to traditional brick and mortar retail, as well as offering a comprehensive suite of services tailored to consumer direct fulfillment. Naxos of America is also one of the world's largest digital distributors of independent classical music and video, supplying a catalog of over 1.8 million tracks and 80,000 albums to hundreds of digital platforms and mobile outlets across the globe. Naxos of America offers marketing, publicity, physical and digital e-commerce services, licensing opportunities, streaming services, sales support and customer service for all new releases and active catalog titles of Naxos Records and nearly 1,000 distributed labels.
72.Best Surround Sound Album
Dutilleux: Sur Le Même Accord; Les Citations; Mystère De L'instant & Timbres, Espace, Mouvemen
Alexander Lipay & Dmitriy Lipay, surround mix engineers; Dmitriy Lipay, surround mastering engineer; Dmitriy Lipay, surround producer (Ludovic Morlot & Seattle Symphony)
Label: Seattle Symphony Media
Item #: SSM1012
Primary Barcode: 855404005126
73.Best Engineered Album, Classical
Corigliano: The Ghosts Of Versailles
Mark Donahue & Fred Vogler, engineers (James Conlon, Guanqun Yu, Joshua Guerrero, Patricia Racette, Christopher Maltman, Lucy Schaufer, Lucas Meachem, LA Opera Chorus & Orchestra)
Label: PENTATONE MUSIC
Item #: PTC5186538
Primary Barcode: 827949053863
76.Best Opera Recording
Corigliano: The Ghosts Of Versailles
Mark Donahue & Fred Vogler, engineers (James Conlon, Guanqun Yu, Joshua Guerrero, Patricia Racette, Christopher Maltman, Lucy Schaufer, Lucas Meachem, LA Opera Chorus & Orchestra)
Label: PENTATONE MUSIC
Item #: PTC5186538
Primary Barcode: 827949053863